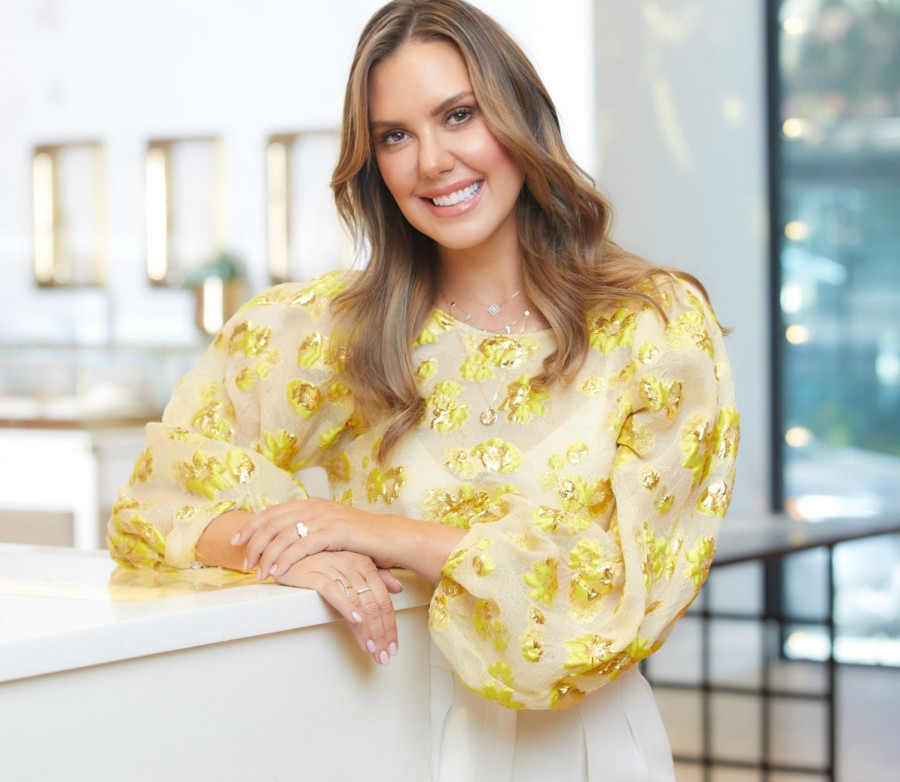 In this exclusive Social Capital Q and A, Kendra Scott company founder Kendra Scott discusses what compelled her to fashion a business around affordable yet luxurious jewelry — and around opportunity, especially for women. Kendra Scott's success demonstrates how businesses can be a force for good with a workforce that feels fulfilled in their personal lives.
We honored Kendra in our February 2022 feature Empowerment: The Ultimate Social Capital for her commitment to upholding a culture that supports a healthy work-life balance for the women — and the men — in the company and encouraging entrepreneurial opportunity especially for women.
This conversation, as with all our CEO Q and A's, is just the beginning of our series of ongoing articles and interactions with Kendra, and we look forward to her sharing more of her insights on how to do business right in today's complicated and challenging environment where Social Capital is becoming more and more important.
Chris Benguhe: You started from humble beginnings and have faced great adversity, which you overcame in a pretty incredible way. In a few words (or a few more), what is your best advice for women who want to achieve success but are facing an uphill battle?
Kendra Scott: You can't do it alone. Have a great support system around you because you will be told "no" a lot and have failures along the way, and that is OK! What matters most is your perspective during those moments of adversity. Embrace them and take them as learning opportunities. Often, failures become the necessary tipping point to bridge you to the next best thing. Roadblocks are inevitable, but how you pivot is what matters.
Chris: Why did you pick jewelry, and what do you think was the most important feature or aspect of your jewelry that made you rise so quickly to your hyperbolic success?
Kendra: Fashion and design are something I've loved since childhood. Although I grew up in Kenosha, Wisconsin, home to farmers and factory workers, my Aunt Jo was a fashion coordinator at Gimbels (a department store based in Milwaukee) and further propelled my love of fashion. The caveat was that I didn't go to fashion school and had no clue how to work a sewing machine, but jewelry is something I knew I could learn to make with my own hands.
As a jewelry consumer, I knew there was a white space in the industry for beautiful, one-of-a-kind jewelry that was both affordable and luxurious. Color, design and quality have set us apart from Day 1. Emphasizing color, semi-precious gemstones and customization remains at the forefront.
Beyond jewelry, a focus on family and philanthropy has been pivotal to our success. We want everyone who walks through our doors to feel welcomed and encouraged to try everything on and know that a portion of our profits goes to nonprofits dedicated to women and children.
Chris: You've said the impetus for starting your company was to create a "9 to 5" (movie reference) for working women. Your company now has a man as CEO. Is that a gender-blind philosophy? And how does that promote opportunity for women?
Kendra: In early 2021, I decided to step down as the CEO of Kendra Scott and promote Tom Nolan from president to CEO. At the time, Tom had worked for Kendra Scott for over seven years and proved to be a crucial partner who understood my values and the importance of creating a company and culture for working women. Tom also had a pulse on the brand and understood how to transform our retail and digital presence from the early stages.
With Tom as the CEO, I've remained the majority owner and continue my role as executive chairwoman, leading design, customer experience and philanthropy. Today, Kendra Scott remains a company comprised of 96% women, and we will continue to promote opportunities for women that allow them to keep a work-life balance that puts family first — regardless of gender at the top.
Chris: You are known for your intent to foster a workforce culture that supports a healthy work-life balance for the women and the men in your office. It's become PC to be gender-blind, but do you see different needs for the women and the men in terms of their goals for work-life balance?
Kendra: Absolutely, but it goes beyond gender, as everyone has different needs. Our team is diverse in a multitude of ways, and we see that different generations also have varying needs. Our goal at Kendra Scott is to provide all the tools and resources that make everyone feel supported. We know that when our KS family is given the time to feel fulfilled in their personal lives, they show up and do better at work.
Chris: How is the value of every woman, and every person, directly connected to you and your company's success?
Kendra: I started this company as a new mom, and I needed people on my team who understood the demands of motherhood in those early days. Today, we continue to apply that philosophy to all our employees. If they need to leave early to catch a soccer game, have dinner with a family member in town or pick up their kids from school, we encourage them to do so. We want them to feel supported and valued in their professional and personal lives. It's part of our larger mission to continue to drive our company through our core pillars of Family, Fashion and Philanthropy, and a huge reason why we remain successful today.
Chris: What are some examples of treating team members like family?
Kendra: We operate on kindness and prioritize heart over a gold-plated résumé. We can teach skill, but we can't teach heart! Our headquarters offer perks to all employees to give them a little more time in their days — a smoothie bar, gym, nail salon, kids' playroom, and nursing room for new moms.
In 2022, we announced that Mother's Day would be recognized as an annual, company-wide corporate holiday. As a company comprised of 96% women, many of whom are moms, we wanted them to feel supported and celebrated. Whether our employees are parents, spouses, friends or dog parents, we want everyone to celebrate the day however they choose — spending time with loved ones, honoring their parental figures or taking quality time for themselves.
Chris: You founded the Women's Entrepreneurial Leadership Institute at the University of Texas at Austin to support aspiring female entrepreneurs. Can you share some success stories that have come from this?
Kendra: Opening the Kendra Scott Women's Entrepreneurial Leadership Institute (KS WELI) has been one of the highlights of my career. As a female founder, I've seen firsthand the challenges women often face in the workplace. I wanted to make an impact on young female entrepreneurs and give them the tools they need to successfully start their businesses and provide mentorship from experienced business vets. Even though KS WELI has only been open for three years, it has been incredible to see the impact it has had on the students:
Since opening in September 2019, the KS WELI has empowered over 2000 women through programming, signature events, and courses.
The KS WELI has built a community through its leadership opportunities, involving over 175 students and 40 alumni.
Since summer 2020, the KS WELI has equipped students with 12 leadership internships —making the KS WELI an institute for students and by students.
Since its inception, KS WELI has provided over 2,000 women with the tools they need to succeed in the business world, and over $50,000 in scholarship dollars to support woman-led startups.
Chris: Kendra Scott recently started a direct-sell program. Over the past two years, there's been a trend to more online buying — and also a hunger for connection. Within those opposing forces, how is the direct-sell program doing?
Kendra: Direct Retail by Kendra Scott is another vertical in our omnichannel retail model. Family, Fashion, and Philanthropy are at the heart of what we do and the reason why we created this program: to empower female entrepreneurs. We will have a growing number of stylists working in various communities where we do not have a strong retail presence. Building teams, recruiting others and holding inventory is not a component of our program.
© Copyright IBTimes 2023. All rights reserved.