Paris Fashion Week welcomed its first Saudi designer into the fold on Thursday, with a haute couture show full of daringly revealing looks.
Ashi Studio has been a big name in fashion for years, dressing celebrities including Beyonce, Lady Gaga and Deepika Padukone.
But Thursday was the first time its founder Mohammed Ashi was included in the official Paris Fashion Week line-up, marking "the peak of his career," he told AFP.
Modest and unassuming, he has rarely put his Saudi nationality up front.
His designs certainly challenge popular notions of Saudi dress, with highly revealing transparent fabrics, or coiled collars and cutouts that clasped the breasts.
"I am a global citizen but I have also always been proud to be Saudi," Ashi said backstage.
The show was inspired by perfumes and used organic fabrics that are used to extract the essence from flowers, along with plenty of velvet.
"It's a dark romance story -- it's about extracting beauty from deep within and putting it on the outside," Ashi said.
It incorporated some of the feathered looks and long silk trains for which he is known.
"The first look was a simplified version of what I usually do and often the most simple thing is the most difficult," he said.
"There was a lot of pressure but once that was done, the collection clicked and I could move forward."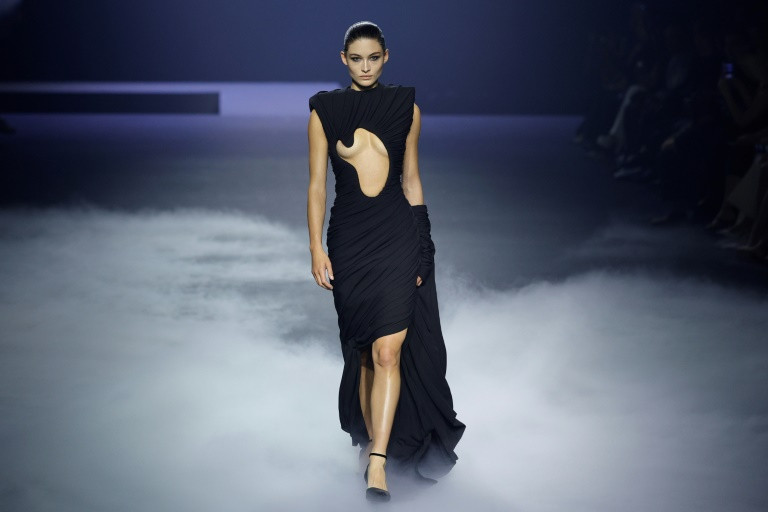 Ashi has forged his own path, having left Saudi Arabia decades ago to work with international labels before setting up his own in 2007.
But since the social changes in the kingdom under Crown Prince Mohammed Bin Salman, Paris-based Ashi has been welcomed back to mentor young designers as part of plans to develop its own fashion industry.
His promotion to fashion's top league is neatly timed as Riyadh announces its own fashion week in October and says new freedoms will boost retail sales to $32 billion a year.
Fashion is just one strand of a strategy that has seen de facto ruler Crown Prince Mohammed Bin Salman divert oil wealth into movies, sports, video games and tourism.
© Copyright IBTimes 2023. All rights reserved.